Hibiscus Rosehip Lotion Family Pack
$240.00
The Botox Alternative
Our Hibiscus Rosehip Lotion combines 100% organic hibiscus extract, rosehip oil, vitamins and antioxidants – ingredients proven not only to moisturize your skin but to heal it, lift it, exfoliate and improve the elasticity of your skin on a cellular level.
This unique formula provides an intense hydration and lifting boost to your skin and is free from gluten, parabens and is vegan.
Helps Improve:
Wrinkles
Dry skin
Rosacea
Stretch marks
Acne
Scars
Burns
Out of stock
Ingredients
Ingredients: Organic Aloe Leaf Juice, Organic Coconut Oil, Rosehip Seed Oil, Emulsifying Wax, Stearic Acid, Glycerin, Vitamin E, Sunflower Seed Oil, Phenoxyethanol, Organic Hibiscus Flower Extract, Provitamin A, Vitamin B3, Vitamin C Ester, Provitamin B5, Organic Neem Seed Oil, Organic Rosemary Leaf Extract, Organic Sunflower Seed Oil, Organic Alcohol, Propylene Glycol, Xanthan Gum, Tetrasodium Glutamate Diacetate.
Related products
Rated 4.75 out of 5
$

24.99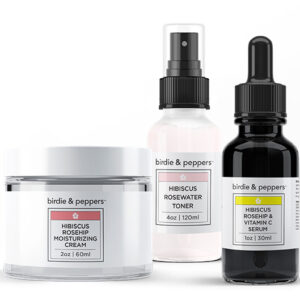 $

89.97